MT Blockchain Certifier Tool - Verify the authenticity of a document anytime!

We are proud to announce you our new document certification service based on Ethereum's "smart contracts"!
Provide digital documents certified on Ethereum's blockchain
Thanks to our Blockchain Certifier tool, you can provide your clients with documents, diplomas, certificates, contracts, or any other digital "asset" from which the origin and authenticity can be always verified via a widget easily integrable in your company's website.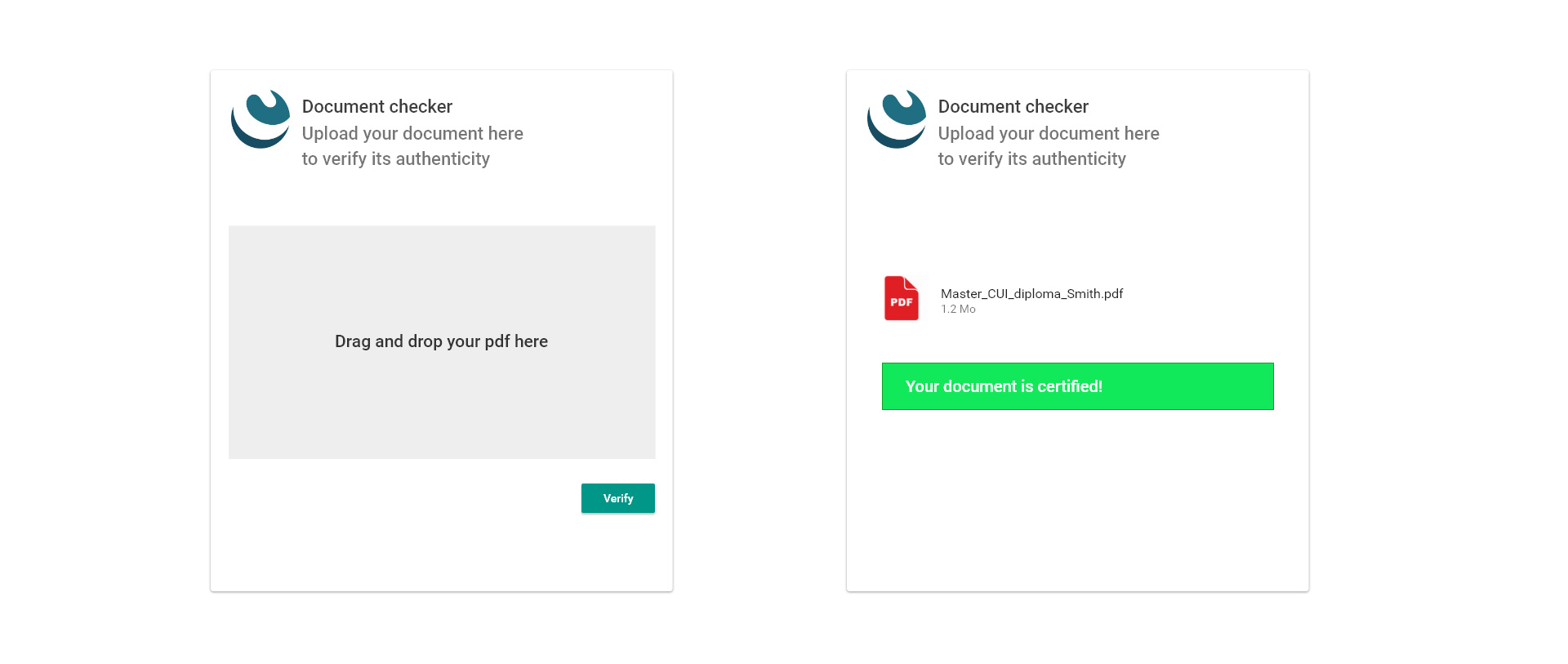 "Smart contracts" and data processing transparency
Your documents are processed with the highest standards of data privacy and confidentiality: The hash of the document is performed inside an "smart contract" where the source code is visible for anyone to check and verify its functionality.

Moreover, your original documents are not modified, neither sent to the blockchain! The service takes only a "digital signature" over the document, and it is only this signature that gets inscribed in the blockchain transaction.

Do you have a document to certify?

1- Connect yourself to our Blockchain Certifier tool platform

2- Authenticate yourself with the certification key that we have provided you and upload the documents to certify

That's it! The authenticity of your document is now guaranteed. You will receive an email with the Ethereum's blockchain transaction details, which will as well allow you (or anyone) to manually verify your documents or certificates if or when needed.

How much does it cost?
We propose "pay as you go" subscriptions, certification packs, and monthly abonnements tailored to your needs. Contact us to know more!

Build with us the "digital profiles" of the future
Imagine a service on which you can upload your CV and request to the different academic institutions integrated in the platform to certify its content. Once you send this CV to a recruiter, she will just have to upload it to our verifying widget in order to check your diplomas and certifications, with the complete certainty that they are authentic! The possibilities of this tool are endless and depend only on you and the platform adoption!

Specific needs or improvement ideas you would like to propose us?